16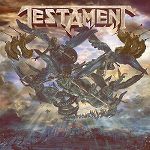 TESTAMENT
The Formation Of Damnation (8,545/10)
9/10:
The Evil Has Landed, The Formation Of Damnation, The Persecuted Won't Forget, Afterlife, F.E.A.R., Leave Me Forever

8/10:
For The Glory Of..., More Than Meets The Eye, Dangers Of The Faithless, Henchman Ride, Killing Season

"TFOD" ist ein durchgehend sehr starkes Album, bei dem es keinerlei Ausfälle gibt. Eine starke Leistung, nach fast zehn Jahren mit so einem Hammer zurückzukommen!
----------------
15
WITHIN TEMPTATION
Black Symphony (8,636/10)
10/10:
The Cross, Somewhere, Frozen, Mother Earth, All I Need, Ice Queen

9/10:
The Howling, What Have You Done, Forgiven, Our Solemn Hour, The Promise, Deceiver Of Fools

8/10:
Jillian (I'd Give My Heart), Stand My Ground, Hand Of Sorrow, The Heart Of Everything, The Swan Song, Memories, The Other Half (Of Me), Angels, The Truth Beneath The Rose

4/10:
Ouverture

Nachdem Within Temptation dem Hörer mit einem überflüssigen und fast acht (!!!!!) Minuten langen Intro auf die Nerven gegangen sind, beginnt ein tolles Livealbum. An der Songauswahl gibt es nichts zu meckern, die Band und das Orchester sind ein eingespieltes Team und auch der Gesang ist beeindruckend.
----------------
14
KAISER CHIEFS
Off With Their Heads (8,636/10)
10/10:
You Want History, Addicted To Drugs

9/10:
Spanish Metal, Never Miss A Beat, Half The Truth, Always Happens Like That

8/10:
Like It Too Much, Can't Say What I Mean, Tomato In The Rain, Remember You're A Girl

7/10:
Good Days Bad Days

Die Kaiser Chiefs bleiben ihrem Stil treu: Partysongs wie "You Want History" und "Never Miss A Beat", angenehm unpoppiges wie "Addicted To Drugs" und merkwürdige Experimente wie "Spanish Metal". Bis auf das etwas nervige "Good Days Bad Days" überzeugen alle Songs vollkommen.
----------------
13
RISE AGAINST
Appeal To Reason (8,643/10)
10/10:
Hero Of War

9/10:
Collapse (Post-America), Re-Education (Through Labor), Kotov Syndrome, From Heads Unworthy, Entertainment, Savior, Whereabouts Unknown

8/10:
Long Forgotten Sons, The Dirt Whispered, The Strength To Go On, Audience Of One, Hairline Fracture, Historia Calamitatum

Rise Against können anscheinend keine schlechten Songs schreiben, und so präsentieren sie auch hier wieder ein tolles, melodisches Punkrock-Album.
----------------
12
THE RACONTEURS
Consolers Of The Lonely (8,714/10)
10/10:
Many Shades Of Black, Rich Kid Blues

9/10:
Consoler Of The Lonely, Salute Your Solution, You Don't Understand Me, The Switch And The Spur, Five On The Five, These Stones Will Shout, Carolina Drama

8/10:
Hold Up, Top Yourself, Attention, Pull This Blanket Off

7/10:
Old Enough

Die Raconteurs, angeführt von White-Stripes-Hälfte Jack White und Brendan Benson, zeigen hier, wie vielfältig sie sind. Es gibt hysterische Rocksongs wie "Salute Your Solution", Folk-/Country-/Indie-Mischlinge wie "The Switch And The Spur", dramatische Balladen wie "Many Shades Of Black", ... Dabei gelingt es der Band aber immer, einen roten Faden beizubehalten und nie beliebig zu klingen.